Before you begin, please read the following important paragraphs. You can also find some interesting notes in the "Frequently Asked Questions" topic.
"What is an icon?" is a really important help topic describing terms such as icons, icon images, color depth, pixel format, mask, transparent color and alpha channel. You will meet these words often when using GConvert, so just take some minutes to read this topic.
To open an icon resource file (a file that may contain icons):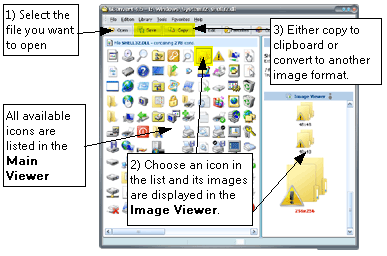 The following files containing icons may be opened in GConvert:
executable files (EXE, DLL, OCX, VBX, DRV, SCR...)
icon library files (ICL, IL, NIL, DLL)
Windows® and Macintosh® icon files (ICO, ICNS, RSRC)
Windows cursor files (CUR)
Zip archives (ZIP)
&raquo Just click Open (or use CTRL+O), select the file you want and its icons are automatically listed in the Main Viewer. You can also drag and drop a file from Windows Explorer or use the context menu (if the shell extension is installed)...
Example: on Windows, some interesting files are C:\Windows\System32\shell32.dll or moricons.dll.
Note: except icon library .ICL files, 16-bit files are not supported if you run GConvert on Windows Vista.
You can browse for hidden icons on your computer: in the Icon Browser expert, you select a folder in a explorer-like folder list and GConvert will open each file found in this folder and then it will display extracted icons in a list.
&raquo To browse for icons, just select the menu command named "File|Browse for icons" or press CTRL+W.
Finally you can easily create icons by importing existing image files: GConvert supports generating icons of any format (height, width and color depth) and including several images in one output icon file.
&raquo To create a new icon, just select the menu command named "File|Convert Picture To Icon" or press CTRL+T. You can also create icons from the clipboard thanks to "File|Create Icon From Clipboard" or CTRL+V.
Do not hesitate to visit the section "How do I ... ?": it contains several help topics with instructions about some useful operations to be done with GConvert.
---

Common Operations

How do I...