This command lets you instantly convert several images into their icon equivalents in the ICO format.
Select "File" and "Batch Create Icons from Images". A window is displayed: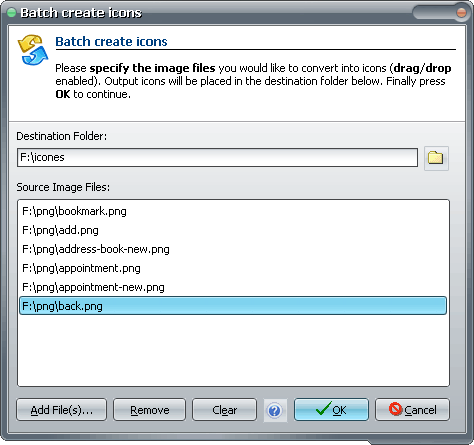 First of all, you have to determine the destination folder for the output files. You can select an existing folder using the Browse button or directly enter a custom path in the field. Note that if the path does not exist, it will be created.
Secondly you need to specify all images you want to convert into icons.
To add a new image to the list, press the Add File(s) button and you will be prompted for selecting the file(s).
To remove a file from the list, highlight it and then press Remove.
Press OK when you are ready.
Note that if output files already exist, they will be automatically overwritten without prompting. Be sure to select a blank folder if you want to skip this possible problem.
How does it work?

Each image is automatically converted into a single ICO file (same filename + .ico extension) placed in the destination folder.

Size: each icon file will have a single icon image whose size is the same as the original image (e.g. if you have a 32x32 PNG file, you will get a 32x32 ICO file).

Color depth is always set to 24-bit (even if your image source only contains 256 colors for instance); but if an alpha channel is available, then a 32-bit icon is created: alpha channels are always kept.
Note: the current background color is used to generate the mask for icons (especially if the source image does not have transparency).
Hint: if your source images use alpha channels, setting the background color to black may lead to better results.
Batch convert cursors to icons
It is possible to convert several cursors (.cur) into icons; in that case, icons will have the same images as the cursor.
Batch convert Macintosh icons to Windows icons
It is possible to convert several Macintosh icons (.icns) into Windows icons; in that case, all icon images are processed.
---

Main Viewer

Common Operations

About plug-ins

How do I...