Download free animated cursor editor AniTuner
Create, edit and convert animated cursor for Windows (.ani files) and animations, so you can use them in web pages, blogs, discussions, emails, video clips, presentations and applications.
Please select the edition you want to download: portable edition (no installation is required: it can be run directly from any storage device) or with a standard installer.
AniTuner with Installer
AniTuner Portable
AniTuner Portable (Zip)
AniTuner with Installer
Select one of these buttons to download AniTuner to your computer:
Download Mirror 1  Download Mirror 2
Filename: ANISETUP.EXE (or similar)
Size: 1557kb
Version reference: 2.0.0
MD5 checksum: 6FCE447237C09CEA14D6081298BC598D
File digitally signed to authenticate our company as well as to ensure that the code has not been altered.
Once your download is complete, run the Setup package ANISETUP.EXE (this is a Windows Self-Installing executable file built with Paquet Builder) and follow the instructions displayed step-by-step by the Setup Wizard.
AniTuner Portable
AniTuner Portable (Zip)
AniTuner requires Microsoft Windows® 10, 8, 7, Vista, XP, 2008, 2003, 2000, ME, 98, 95 or higher.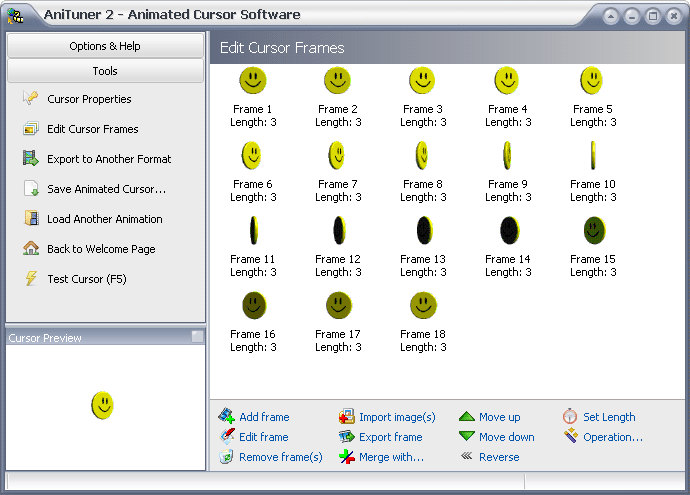 If you have the Portable edition, you just need to remove the folder where you copied AniTuner. More instructions in the Readme.txt file.
Otherwise, to uninstall AniTuner, select the Add/Remove Programs icon in the Windows Control Panel, then highlight AniTuner and click on Remove or Maintenance (it may change with different versions of Windows).
Note: please be sure to quit all applications before removing AniTuner.