Download GUnite, free uniting tool
GUnite is the GSplit Unite tool that allows you to join piece files together that were made with our free file splitter GSplit. It will be useful if your piece set does not include a Self-Uniting program. GUnite is available in the GSplit package too.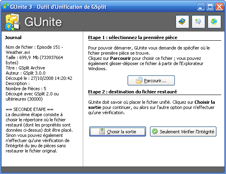 Portable: no installation is required, just double-click on GUnite.exe in order to run GUnite.
This program file was digitally signed (with Microsoft Authenticode) to authenticate our company (G.D.G. Software) as well as to ensure that the code has not been altered.
MD5 checksum: 0910FB5A36662CCD6586AA16F9FA6A88
Included languages: English and French. Additional translations are available.
GUnite 3 is compatible with piece sets made with GSplit 1.7, 1.8, 2.0 and 2.1.