Download our free file splitter GSplit
Powerful and free file splitter that lets you split your large files into a set of smaller files called chunks or pieces. It also creates a Self-Uniting program that automatically restores the original file with no requirement. Finally, it includes a lot of customization features for easily and safely splitting your files.
Please select the edition you want to download: portable edition (no installation is required: it can be run directly from any storage device) or with a standard installer.
GSplit 3 with Installer
GSplit 3 Portable
GSplit 3 Portable (Zip)
GSplit 3 with Installer
Select one of these buttons to download GSplit to your computer:
Download Mirror 1  Download Mirror 2
Filename: GSPLITS.EXE (or similar)
Size: 1506kb
Version reference: 3.0.1
MD5 checksum: DE1726040A5232BD5A670A749CCEC2A4
File digitally signed (with Microsoft Authenticode)

to authenticate the publisher as well as to ensure that the code has not been altered

.
Once your download is complete, run the Setup package GSPLITS.EXE (this is a Windows Self-Installing executable file built with Paquet Builder) and follow the instructions displayed step-by-step by the Setup Wizard.
GSplit 3 Portable
GSplit 3 Portable (Zip)
Do you like GSplit? If yes, please donate to keep the software up-to-date.
GSplit requires Microsoft Windows® 10, 8, 7, Vista, XP, 2008, 2003, 2000, ME, 98, 95 or higher.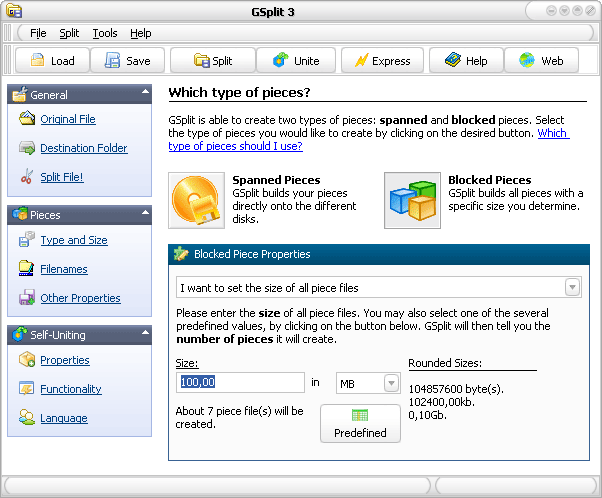 More Translations
GSplit, GUnite and Self-Uniting programs have multilanguage support: all texts and messages can be translated in your own language. Each translation is available in an external file: GSplit language files are given the extension .GSL.
To download a language file, right-click it below and choose Save Target As. Then, go to the directory where GSplit is available (GSplit.exe) and place the language file in the "Languages" subfolder.
Currently the following translations for GSplit 3 are available and were provided by third-party users.
How to choose a translation
Select Tools | Environment Options. Then choose the language you want using the combobox; you can also browse for an existing language file.
Note that GSplit automatically selects the best language according to your user locale when you run it for the first time.
How to edit/make new translations
You will find all language files in the GSplit's "Languages" subfolder. They are just XML files with a different extension.
To make a new translation: translate the different XML entries into the language of your choice, and be sure to update the properties, especially names and LCID (see this page for the list of all locale IDs available).
Finally, save the new language file in the "Languages" subfolder, choose your new language as explained above, close GSplit and restart it again.
If you wish, you can send us your language file and we may publish it on this page, so other users may benefit from your work.
Note that language files are both used by GSplit, GUnite and Self-Uniting programs, so be sure to translate all resource strings.
The language files on this page are provided "as is" with no express or implied warranty for accuracy.
Additional Skin Files
In this section, you can find some skin files that allow you to change the look of GSplit. Just download the skin file and save it into the Skins subfolder of GSplit (generally C:\Program Files\GSplit\Skins).
To select a different skin in GSplit, go to the Environment Options and enter the path to the skin file you want to use ("Custom Skin File" field). You can also click Browse.
Stand-alone GUnite 3
Related Links
– Related Applications
GSplit may be used with the following applications.
HTML Executable: compress your websites into stand-alone executable files.

Paquet Builder: compress your files with 7-Zip technology and then create a single Self-Extracting Executable file – fully customizable.
– Add-ons and utilities for GSplit
These applications can create resource files to be used with GSplit:
GConvert: extract icons from any files and convert them into icon, bitmap, GIF, JPEG files… GSplit allows you to change the default icon of your Self-Uniting executable file ; you can then use icons extracted with GConvert.
If you have the Portable edition, you just need to remove the folder where you copied GSplit. More instructions in the Readme.txt file.
Otherwise, to uninstall GSplit, select the Add/Remove Programs icon in the Windows Control Panel, then highlight GSplit and click on Remove or Maintenance (it may change with different versions of Windows).
Note: please be sure to quit all applications before removing GSplit.
Watch this video tutorial that shows you how to split a file with GSplit 3. It does not cover all features.