We are pleased to announce the launch of the XLS Padlock 2024, the latest update to our Excel workbook licensing and security software. This version introduces significant enhancements and features, aimed at improving the security and management of Excel workbooks.
Key Updates in XLS Padlock 2024: Introduction of License Deactivation Feature
A notable addition in this version is the license deactivation feature, which facilitates both online and offline deactivation of licenses. This enhancement is integrated with the Activation Kit and the WooCommerce Integration Kit 2024, ensuring a smooth deactivation process for end users.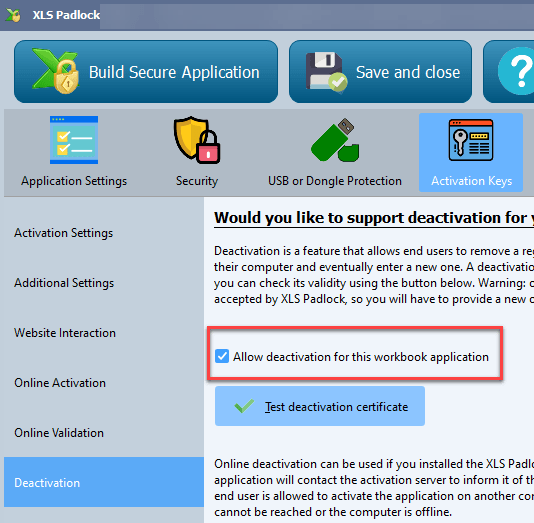 Users have the option to deactivate their licenses through an automated process when online deactivation is enabled in their protected Excel workbook applications. The software communicates with a server to unregister the activation. In situations where the server is not accessible or the device is offline, a manual deactivation process generates a deactivation certificate, which users can forward to you as verification. This certificate can be tested using XLS Padlock's "Test deactivation certificate" functionality.

Updates and Improvements in Features:
– Web Update Enhancement: The web update mechanism has been refined to better handle multiple URLs and support relative folder paths for update files. This improvement also resolves issues related to renaming EXE files that could lead to update failures.
– VBA Compiler Upgrade: The VBA compiler now includes additional Excel VBA constants, increasing compatibility and flexibility for VBA programming.
– Introduction of 'OnAfterSave' VBA Event: Specifically designed for XLS Padlock, the new XLSPadlock_OnAfterSave event triggers after each save, offering developers enhanced control.
– Security Enhancement by Disabling 'Link to this Sheet': This measure further secures Excel workbooks by disabling the 'Link to this Sheet' feature.
– Advanced USB Locking: The latest version allows for editing USB IDs in USB locking, providing a more secure and versatile approach to controlling access to protected workbooks.
– Option to Hide 'Original Workbook' Selection: This feature compels users to select from existing workbook save files, beneficial when save files are provided directly by the user.
– Ignore Errors in Workbook Processing: A new setting to overlook errors during the internal protection process of the workbook improves stability and user experience.
Additional Enhancements:
– Change in UPX Compression Use: Due to antivirus false positives, UPX is no longer used by default. It is now an optional feature, recommended only with a code-signing certificate.
– Bug Fixes and Performance Enhancements: Various improvements have been made, including those related to .DAT files and the activation dialog. The software's startup time has also been significantly optimized.
– Better Handling of Corrupted XLSCE Files: Enhanced error messages for corrupted XLSCE files.
– Improved Localization Support: Updated language files include new strings, particularly for the deactivation process.
– Expanded Documentation: The documentation has been updated with new topics and a frequently asked questions section for better user guidance.
XLS Padlock 2024 is a significant advancement in our ongoing efforts to enhance our security and licensing solutions for Excel spreadsheets. This version focuses on addressing user needs for advanced protection and efficient license management. We encourage users with active maintenance to upgrade for free. For those whose maintenance has lapsed, renewal options are available at a discounted rate.
We invite you to review the detailed documentation and experience the full capabilities of XLS Padlock 2024.
Download XLS Padlock 2024 today and test our Excel workbook licensing and protection software today.
Free fully-functional trial available!
More information at https://www.xlspadlock.com