Download GConvert, our icon conversion software
The best solution to extract, manage, edit and convert icons. View or edit images inside icons, convert icons from/to other image formats, manage or export icon libraries, search for icons, add favorites… with a nice and intuitive interface. Enhanced support for Windows™ 10, 7, Vista, XP & Macintosh™ 32-bit alpha-blended icons. Learn more about GConvert

Select one of these buttons to download GConvert to your computer:
Download Mirror 1 Download Mirror 2
Filename: GCONVSET.EXE (or similar)
Size: 3379kb
Version reference: 5.2.0
MD5 checksum: B9F2DA5AB3A56C7F9 D5DFF5D50A20A83
File digitally signed to authenticate our company as well as to ensure that the code has not been altered.
Once your download is complete, run the Setup package GCONVSET.EXE (this is a Windows Self-Installing executable file built with
Paquet Builder
) and follow the instructions displayed step-by-step by the Setup Wizard.
 GConvert requires Microsoft Windows® 10, 8, 7, Vista, XP, 2008, 2003, 2000, ME, 98, 95 or higher.
Additional Skin Files
You can change the interface of GConvert as it supports skins. Some skins are already shipped with GConvert but you can download new ones below.
» How to change a skin in GConvert.
Files are digitally signed (with Microsoft Authenticode) to authenticate the publisher as well as to ensure that the code has not been altered.
Additional Skin Pack
Download here
Size: 449kb – version 1.1 for GConvert 5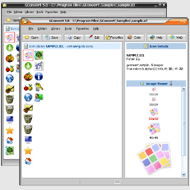 Contains BlueMorph, Clouds, ColorExpert, FineVector2,gel2,Gradic, iTMode, Office2007_Dark, Sirius2 and Win9X.
To uninstall GConvert, select the Add/Remove Programs icon in the Windows Control Panel, then highlight GConvert and click on Remove or Maintenance (it may change with different versions of Windows).
Note: please be sure to quit all applications before removing GConvert.