Very large icons fully handled by GConvert
In Windows™ Vista, you have 256×256 large icons as a solution to prevent icons from appearing tiny on high resolution desktops.
GConvert manipulates Windows Vista icons without any problem (any color depth), even if it is not run on Vista. The program also stores Vista icons in icon libraries (ICL) or in DLL files that can be recognized by Windows and other applications.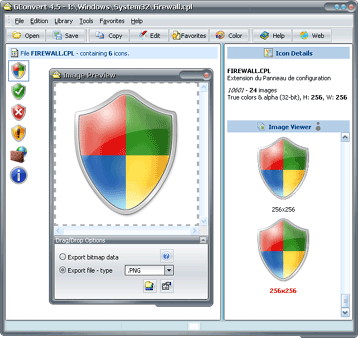 Vista icons should be compressed in order to make them smaller: 256×256 icon images are stored in the PNG (Portable Network Graphic) format; however Vista icons are not recognized by previous versions of Windows.
Thus GConvert lets you add or remove PNG compression (in the Icon editor) if you would like to make backward-compatible icons: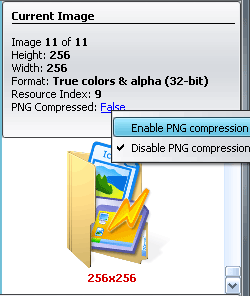 GConvert can finally generate Vista icon images (256×256) from your existing icon images if you wish.