This release comes with several new additions such as support for PHP 8, kiosk printing (direct priting without user interaction), ability to choose the rendering engine (especially for still handling deprecated Flash) and some improvements as you can see in our changelog.
We strongly recommend you to upgrade if your maintenance is active.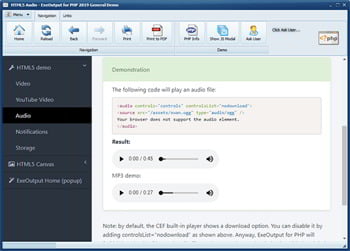 Description
ExeOutput for PHP converts PHP and HTML websites into native Windows applications and software programs.
The end result is a standalone browser application that runs PHP scripts natively without the need for a PHP distribution or a web server.
By combining the power of PHP, HTML5 and JavaScript, you can build Windows applications, custom web browsers, database front-ends, ebooks, games, digital catalogs, and much more.
You can protect your applications' source code and thus earn money by selling them.
Upgrading to ExeOutput for PHP 2021.0 requires an active maintenance. You can check your maintenance here.
A fully-functional free trial of our PHP to EXE compiler is available for download.
See also: why should you build and sell PHP apps using our PHP compiler?